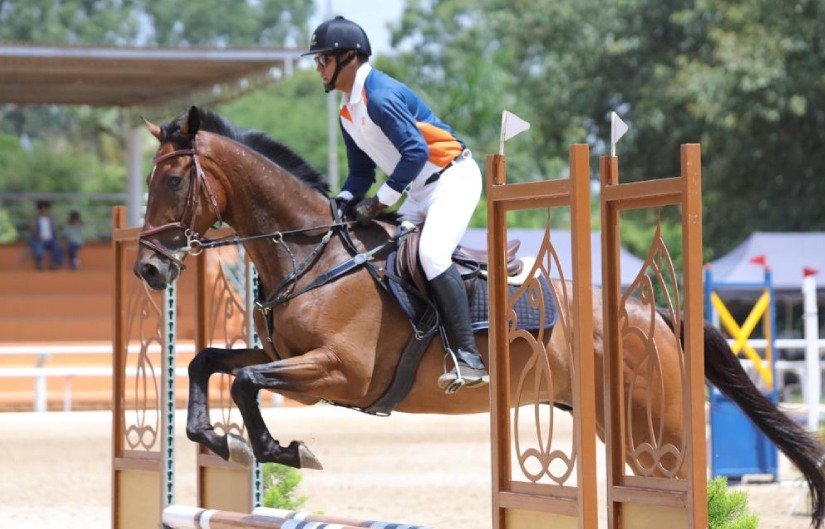 Show Jumping
Show Jumping,Competitive equestrian event in which horse and rider are required to jump, usually within a time limit, a series of obstacles that have been designed for a particular show.
Eligibility criteria
Riders after completion of Advanced riding program or are at an equivalent level of riding.
Jumping is a pure partnership of the horse and the rider. In most of the cases, the horses are very well trained to do the most of the job and the rider simply guides the horse to the jump with good canter, balance and angle to the jump.
However some horses may require more from the riders.
×
Module 1 – Jumping Basics (L1SJ)
Eligibility criteria
Riders who have passed the Advanced riding program or equivalent course.
Course Outline
The rider is trained to ride the horses in different seats and made familiar with the forward seat which is very essential in jumping. The rider is introduced to the trotting poles and gymnastic exercises which are very essential to maintain the body balance and also the balance of the horse.
Course outcome
The rider will be confident to do a small course of 6-8 obstacles and a combination of small jumps.
×
Module 2 – Jumping lessons (L2SJ)
In this module, the rider understands the partnership which is required to complete the jumping course well within time with no penalties and what goes in to keep the horse moving forward and willing to jump the course for the rider.
Eligibility criteria
Module 1 – Jumping basics or previous jumping experience
Course Outline:
The course begins with an introduction to small jumps which will boost the confidence of the rider and the horse. Further, the rider will be introduced to jumps of the height of about 60-70 cms in a progressive fashion making the riders understand the etiquettes of jumping such as line of track, angle to the jump and the rhythm which is required to complete the course. Finally the rider is introduced to a combination of Jumps.
Course outcome
The rider will be equipped to ride a jumping course of 60 cms with confidence, good rhythm, and balance.For more exposure to the riders, we also take our riders to the local shows for some good experience.