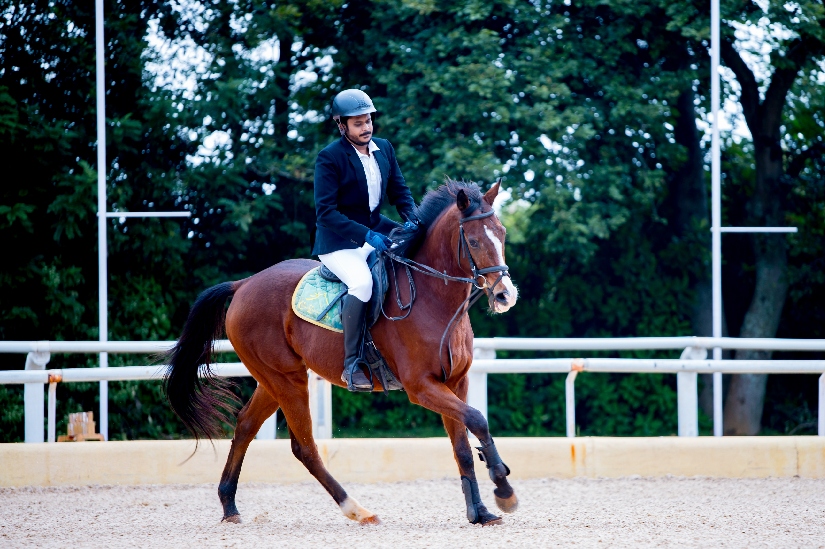 Professional Horse Riding Schools & Training Centers in Bangalore.
Nothing Makes Your Life Easier The Way Horse Riding Does………
Introduction to Horse Riding
Horse riding, also known as Equestrianism or horseback riding, includes various horse riding activities for different purposes. This comprehensive definition includes the use of horses for practical working purposes, transportation, recreational activities, artistic or cultural exercises, and competitive sport.
Horses are used for non-competitive recreational ridings, such as fox hunting, trail riding, or hacking. The horse riding clubs in Bangalore provide training for some of the popular horse riding competitions that are assembled at horse shows and performed in a wide variety of manners.
Horse riding is a splendid sports activity that is interesting and offers great mental and physical relief. It can be performed by all irrespective of age and abilities. These days back horse riding is no longer a hero thing, people from different walks of life are taking interest in this sport and enjoying the health benefits offered by this activity. More and more horse riding clubs in Bangalore are coming up offering horse riding classes in Bangalore for people who want to learn horse riding in Bangalore or recreate and compete with their horses. These clubs provide all resources required for exquisite riding experience including training, equine sports, safety tips and many more. One can practice equestrian sports such as Polo, Eventing, dressage, and jumping in horse riding schools.
Back horse riding is not only about performing an activity or a task, it is more about disconnecting from the chaos of daily life, riding on trails and enjoying landscapes while riding when you want a break from everything that's going around. It's basically a metaphor for Nirvana.
Number of classes required to learn Horse Riding
If you go and ask any horse riding class's instructor they would say that every next student wants to know, how many horse riding lessons do they have to attend? or how long will it take to learn horse riding in Bangalore?
The answer to this question can never be specific. The number of classes required to learn back horse riding depends on many factors such as the age of a person, is the student too young? Middle-aged? Adults? Some want to learn riding to follow their parents' instructions and some want to learn horse riding in Bangalore because it is their passion. It depends on how motivated and serious the student is when getting enrolled at the horse riding academy.
Apart from the above-mentioned factors, other factors are also considered when determining the number of classes required to learn horse riding in Bangalore including- the quality of instruction, time spent in the saddle, maturity level, ability to follow directions, retain information, natural talent, athletic ability and many more.
Expecting to be a great horse rider by attending a few classes at a horse riding school in Bangalore will not be a possibility. It requires dedication and time just like any other course.
Let's say for instance that an average ratio of students taking one horse riding lesson every week and riding for 30-45 minutes during that lesson, then they will have about 40 hours of saddle time during one year. Undoubtedly, this way lots of learning is included in just 1000 hrs, which is not a reasonable amount of learning duration. If you are willing to become adept in back horse riding, be confident to ride as much as you can.
Typical Horse Riding Gear
Having questions and confusion about what to wear when you go horse riding in Bangalore for the very first time is a very obvious state of mind. There is some essential set of clothing and equipment that must be worn in order to have a safe riding experience and handle the horse well in the saddle at horse riding club Bangalore.
To make yourself all set for exceptional horse riding training, always get yourself geared up with a well-fitted riding hat that meets specified safety standards and a pair of boots that has a smooth sole and small heel. It is also recommended that investing some amount in good riding gloves and a body protector would not be a loss as it offers a comfortable and secure experience and allows you to acquire the best horse riding classes in Bangalore.
To become more compatible while taking sessions at horse riding schools in Bangalore you can also choose to wear a pair of jodhpurs, breeches or riding tights, or any other type of riding trousers that you will find more convenient rather than jeans and jogging pants.
However, investing too much in buying expensive and technical gear doesn't make any sense for the first horse riding classes. Whatever you are going to wear must fit you well and meet all safety standards.
Places in Bangalore to learn Horse Riding
Zippy equestrian Center
Zippy Equestrian Centres in Bangalore, located in the city centre, offers horse riding lessons and stable management. Here horse riding classes in Bangalore are available for any type of rider of any age including complete beginners, novices, intermediate and advanced riders. The horses at Zippy horse riding academy are well trained and are highly efficient and skilled in order to embrace you with everything that's most virtuous within you and in this world.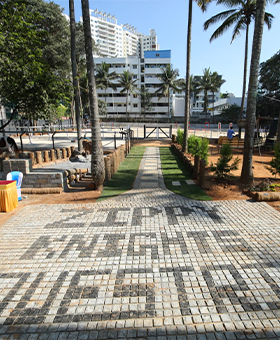 What makes Zippy Academy different from other horse riding academies?
They have a Stabling option where people can own the horses and keep the horses back at the stable of Zippy once they are done riding.
Zippy horse riding academy is actively involved in providing horse training and taking part in equestrian sports.
Zippy has a showjumping team that attends private leagues organised in India and also takes part in National championships.
Vital services offered by Zippy:
Horse Riding Lessons : Zippy offers horse riding lessons for all ages and all types of riders. Here the horse riding lessons include Beginner's program, Novice program, Intermediate program, Advanced program and Practice program.
Horse Training : Zippy offers horse training services to people looking forward to owning a trained horse for different purposes. The horse trainers at Zippy are very well skilled in assessing the behaviours of horses and using various techniques to get the horses to respond in a particular way. If required then the horse trainers at Zippy also put effort to let the person who will be handling the horse and horse get connected and comfortable with each other.
Equestrian Sports : Zippy offers aspirants of equestrian sports to practice for contests at their academy as well. People here are provided with training for equestrian sports like dressage, eventing and showjumping.
Conclusion : The zippy horse riding club Bangalore provides consultation to people who want to establish their own equestrian business. The consultation services include the set-up of the Equestrian Infrastructure, procurement of the right horses, horse feed, horse tack and the continual improvement of the stables and horse's health and well being. This consultation helps business owners to achieve their business targets efficiently and conveniently.
Franchise : Zippy horse riding academy offers people to start a horse riding centre of their own with a minimal budget and scale up progressively. Their team will set up the Equestrian Facility and run the business for a specified time period and hand it over to the owner once the minimum target is achieved.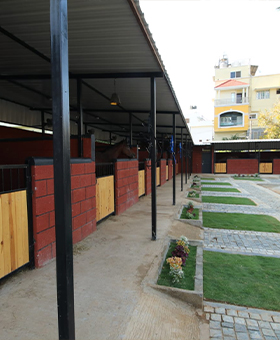 United Riders Barn
United Riders Barn horse riding academy located at Hennur Bagalur Main Road, Kannur Post, Bangalore, India 562149. This is a horse riding club in Bangalore founded by Nitin Gupta, who himself has been a very successful Show Jumper with 25 + years of experience and success.
Academy provides an exceptional experience of horse riding in Bangalore and is a good option to learn horse riding.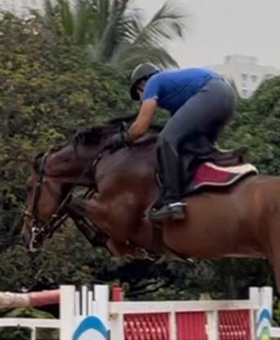 Embassy International Riding School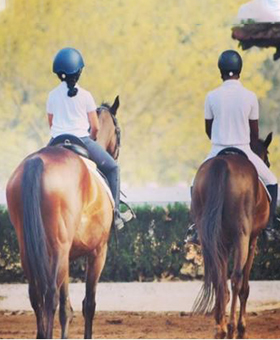 Embassy International Riding School Bangalore (EIRS), is India's premier horse riding school, run according to British Horse Society (BHS)standards. This campus is built on a 240-acre land and located in Devanahalli, just 27km north of Bangalore city.
EIRS, a horse riding school in Bangalore offers:
Structured horse riding classes in Bangalore for all types of riders from beginner to advanced instructed by highly experienced and skilled trainers teaching on the same lines as BHS levels.
Various activities of horse riding in Bangalore including pony club activities for children of all ages.